If your dog is begging to taste edamame, you're probably wondering if it's okay for dogs to eat these little beans. Well, it turns out that…
Dogs can eat edamame if they don't have a soy allergy, as edamame beans are baby soy beans. When feeding a dog edamame choose plain beans, without their shells or pods. Edamame is safest for dogs when it is raw, cooked, or frozen, without any condiments added to it.
Just because dogs enjoy edamame and don't have a food allergy doesn't mean that they can eat all kinds of edamame. In fact, some parts and types are quite dangerous for dogs. Let's take a look at what edamame you can feed your dog and how much is safe for your dog to eat, so there aren't any nasty side effects.
Can dogs eat edamame?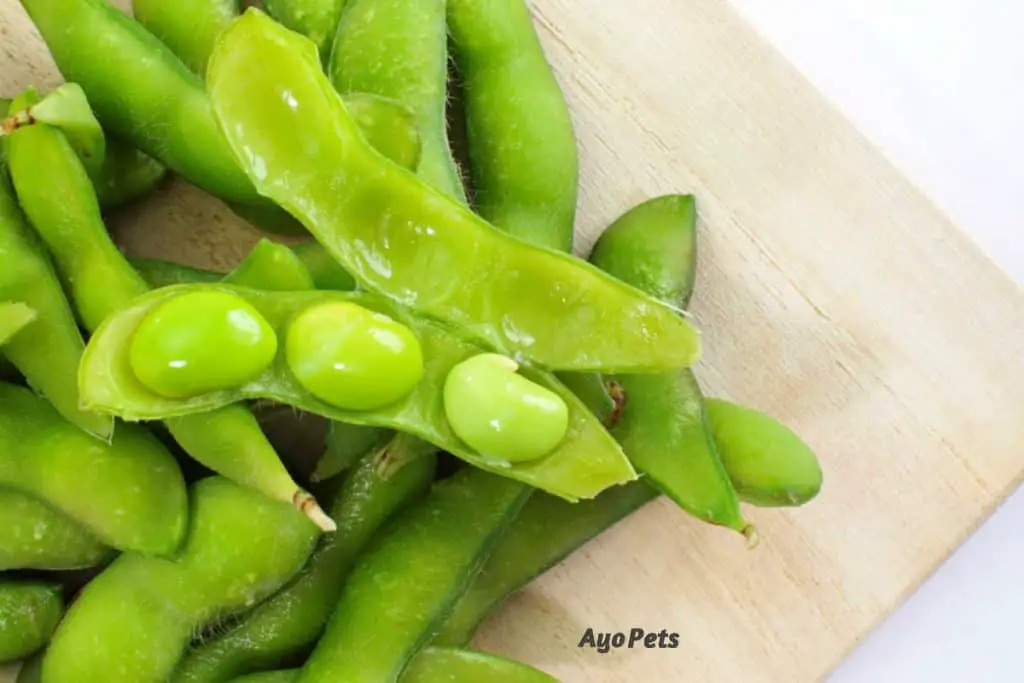 ---
Soybeans grow in pods or shells on soy plants. When the beans in the pods are very young and still green, they are often called by their Japanese name: edamame. Over time, baby edamame matures into light brown soybeans.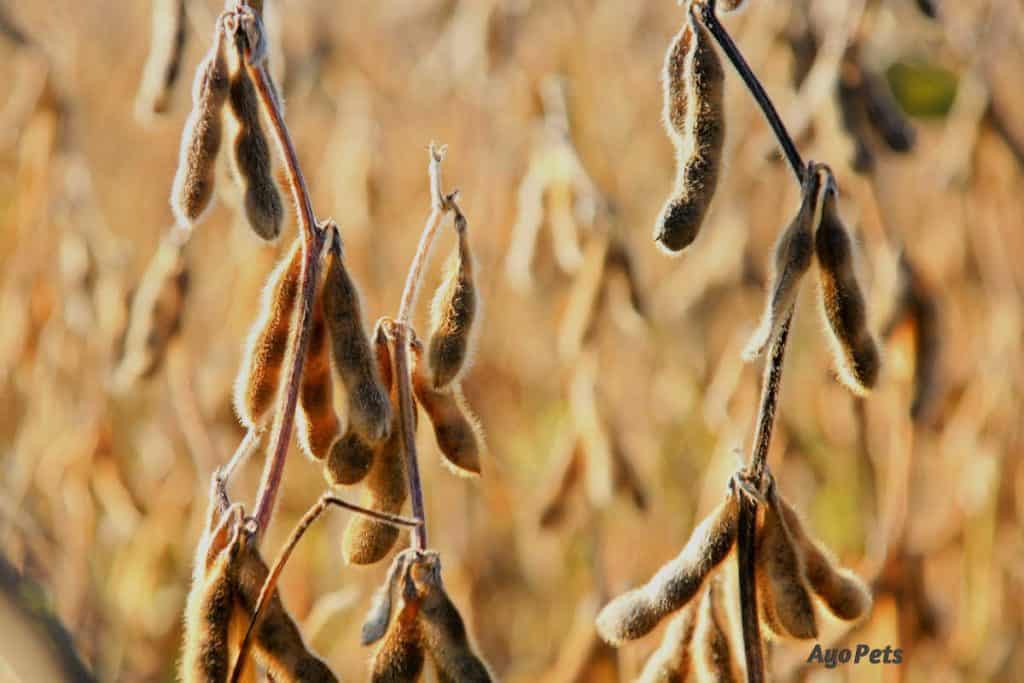 ---
So edamame is soy, which is a vegetable that contains proteins, fats, carbohydrates, and fiber.   
Soybeans are added to many dog foods on the market because they are filling, affordable, and usually safe for dogs to eat, unless a dog is allergic to soy. This tells us that edamame should be safe for dogs to eat too.
Dogs can eat edamame that is:
You can give your dog edamame beans by sprinkling them over food, adding the beans to homemade dog food, giving them as a treat, or using the beans as an occasional training reward.
Dogs should not or cannot eat:
Cooked edamame with something added to it, such as salt, oil, spices, seasonings, soy sauce, garlic, etc.
Store-bought edamame snacks that have salt or any other additives
Edamame pods, as they are difficult to digest and are a choking hazard (*see more info below)
Edamame mixed with frozen or other vegetables, as there might be garlic or onion in the mix (two of the vegetables that are toxic to dogs)
Can dogs eat edamame pods?
Edamame pods are not toxic to dogs, but it's better not to give a dog edamame pods because they are difficult for a dog to digest and are a choking hazard.
A small dog might choke on an edamame pod if the pod gets stuck in the dog's throat, or the pod could get stuck later in the dog's digestive tract.
A large dog should be able to eat a pod without a problem, but the pod can give the dog gas, bloating and constipation, making things very uncomfortable as it makes its way through the digestive tract.
Can dogs eat edamame noodles?
Dogs can eat edamame noodles or spaghetti that hasn't had anything added to it, such as salt, oil, or flavorings. Because of its high fiber content, too many edamame noodles could give the dog gas, bloating, or constipation, so make edamame noodles an occasional treat and give them to your dog in moderation.
How much edamame can a dog eat?
A large dog can safely eat about five to ten edamame beans at a time. A small- or medium-sized dog can be given between one and five beans at a time.
If your dog has never eaten edamame before, feed only one or two beans to start off with, to see if your dog likes the beans and how it reacts. If a dog isn't used to edamame and eats too many beans in one sitting, there could be side effects such as gas or constipation.
Just because soy is in many dog foods doesn't mean that you should give your dog soy regularly or that more is better. In fact, too much soy over a period of time can damage a dog's thyroid or liver.
If you are adding edamame or soybeans to homemade dog food, get a balanced meal plan from a veterinarian or qualified expert so you know how much is right for your dog's size, age, weight, breed, and requirements. You want to make sure your dog is getting nutrients in the right quantities and doesn't get malnourished or harmed over time.
Be sure to use this schedule whenever you change your dog's food, to avoid tummy upsets and ease your dog into the new food: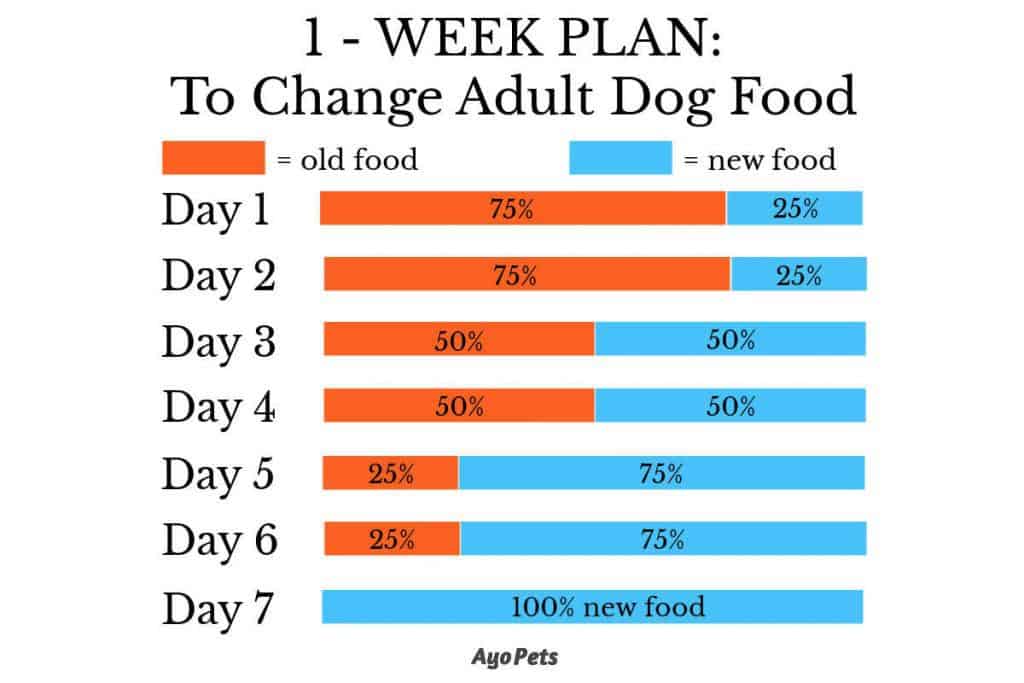 What happens if a dog eats too much edamame?
Dogs don't feast on edamame in nature, so their digestive systems aren't designed to process a lot of this type of plant material. A dog that eats too much edamame is probably going to have symptoms until the edamame has worked its way out of the digestive system.
Edamame can be difficult to digest and contains a lot of fiber, which absorbs water and bulks up the stool. If a dog eats too much edamame, it can suffer from gas/flatulence, abdominal bloating and pain, diarrhea or constipation.
Edamame doesn't always break down during digestion, so you might see whole beans in your dog's stool.
Symptoms of soy allergy in dogs
Some dogs are allergic to soy and cannot eat edamame beans. If you give your dog edamame and you see any of the symptoms listed below, it's better not to give your dog any edamame or soy and speak to your vet about a possible food allergy.
Write down when you fed your dog edamame and when the symptoms started showing. But also know that your dog might be allergic to something else, not soy, and your veterinarian will be able to advise you on this.
According to Pet MD, your dog might have a food allergy if your dog …
Is constantly scratching itself
Is constantly licking its feet
Keeps on getting ear infections
Keeps on getting hot spots, which are hairless patches where the skin has become red and inflamed
Often suffers from digestive issues, such as diarrhea, constipation, vomiting, a grumbling stomach, gas, or abdominal swelling
Has red eyes that look inflamed
Coughs a lot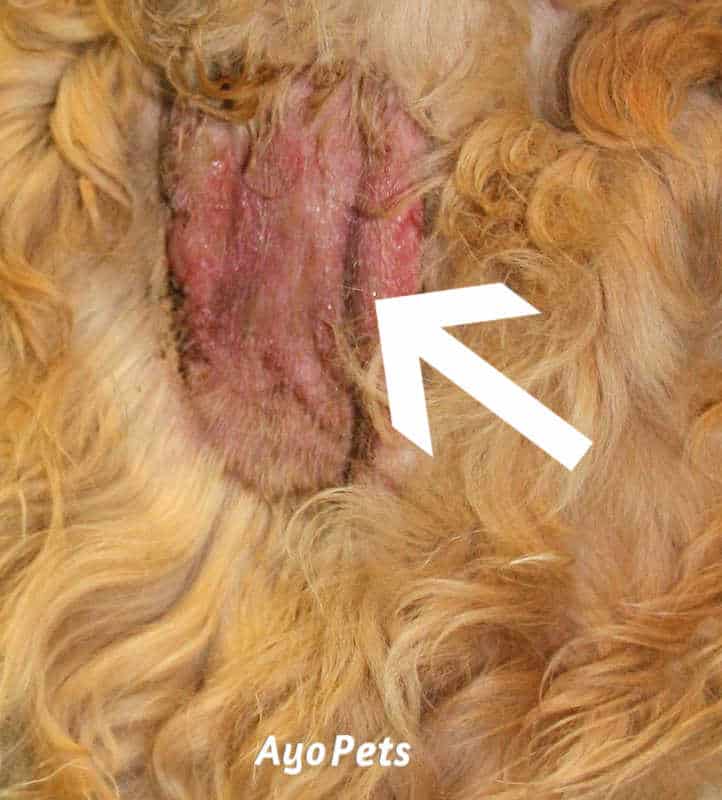 ---
Final thoughts
Edamame makes a great snack or treat for your dog, in moderation.
The trick is to keep it clean and as close to nature as possible, by feeding your dog raw edamame beans without the skins or anything added to it.
Pop some beans into the freezer and give them to your dog on a hot day, as a cooling treat. Edamame is a tasty addition to your dog's diet, but should never be the staple.