You may have noticed a sprinkling of white flakes on your puppy's coat, which is most likely puppy dandruff. But will the dandruff go away on its own?
Puppy dandruff goes away when a dog's oil glands become fully developed. As a dog matures, the oil glands that keep its coat shiny and moisturized start working better, clearing up those dry flakes of dead skin.
Puppy dandruff is quite natural and is usually nothing to worry about. But knowing why dogs get it and how to stop it from becoming severe can keep your puppy's dandruff under control and your puppy comfortable.
In this article, you'll find out:
What puppy dandruff is
5 things that cause puppy dandruff
How to treat puppy dandruff
What puppy dandruff is
Puppy dandruff is a skin condition caused by the over-shedding of skin cells on the dog's back, rump, and neck. It usually happens because of an imbalance of oil on the skin, which shows up as a sprinkling of tiny white flakes in the animal's fur.
The white flakes of shed skin are called "dander". Dander tends to be much more noticeable on darker coats than lighter ones.
Regular puppy dandruff doesn't bother the dog and causes no physical harm. But severe cases can result in temporary fur loss wherever the dog keeps on scratching itself because the dry skin becomes itchy.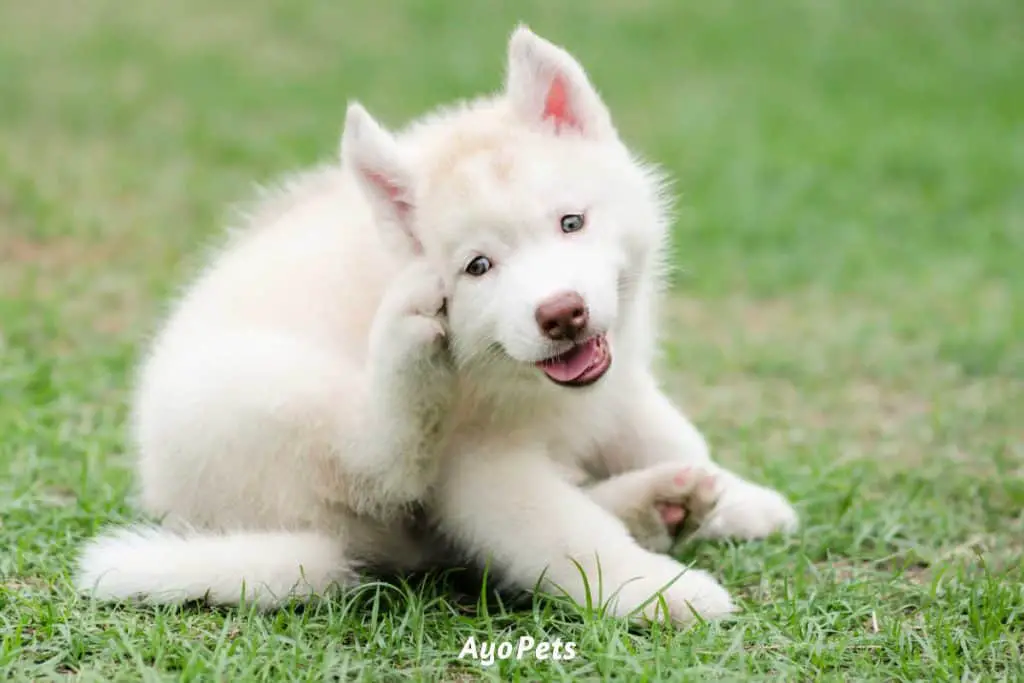 ---
5 causes of puppy dandruff
There are five things that give puppies dandruff:
The oil glands are not yet fully developed
Dogs have oil glands in their skin, especially on the back of their neck, on their rump, under their chin, and at the base of their tail. These glands release healthy oils that moisturize the dog's skin and hair, helping to keep them healthy and clean.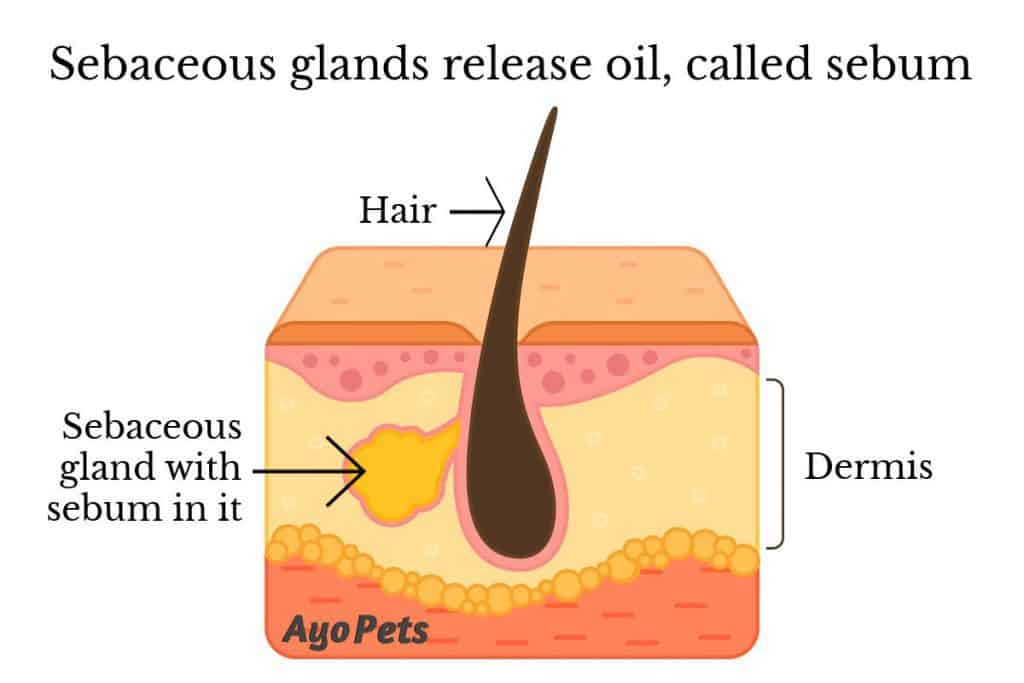 ---
Most puppy dandruff happens because these oil glands are not yet fully developed, so the skin dries out and starts flaking.
Washing the puppy too often or incorrectly
Washing a puppy, especially with harsh shampoo or too often, removes oil from the dog's skin and causes puppy dandruff.
Even older puppies who have fairly well-developed oil glands will struggle to maintain a healthy skin if they are washed too often or incorrectly.
A puppy should only be bathed once a month with puppy shampoo until they're 6 months old, not more than that.
Click here to find out why and when a puppy should be washed, and the signs that you're washing your puppy too often.
The air is too dry
Humidity is the amount of moisture in the air. Low humidity (or little air moisture) is usually caused by:
A sudden drop in temperature
Air conditioners, heaters, or dehumidifiers in a house
The climate in your area (e.g. desert areas)
In areas or at times when there's very little humidity, the air becomes dry. This dry air can dry out a young dog's skin because the puppy doesn't have enough natural oils to keep its skin and fur oiled, even if everything was fine when there was high humidity.
To stop your puppy from getting puppy dandruff in low humidity conditions, do one or more of the following:
Use a vaporizer humidifier (like this popular one from Amazon) in your home
Boil water on the stove to add moisture to the air
Keep a bowl of water in a room where an air conditioner or heater is running
Get houseplants, such as snake plants, jade plants, or aloe vera that all do well in low-humidity spaces
The puppy has allergies
Something that causes an allergic reaction is called an antigen. Some common antigens for puppies are grass, pollen, and flea saliva, and a dog's allergies often flare up when the seasons change.
A puppy that's allergic to something and gets exposed to the antigen could get dandruff as a reaction, so it's important to find out what antigen is causing the problem.
A diet that lacks moisture
If a puppy's diet doesn't contain enough protein and healthy fats and oils, the dog's skin could dry out and flake.
It's important to put your puppy on a good-quality puppy food and keep a young dog on puppy food for as long as necessary (click here to find out how long a puppy should stay on puppy food).
Many cheaper food brands on the market lack the right ingredients for a healthy dog. Ask your veterinarian what to feed your pup – I personally feed all my dogs Royal Canin pellets from puppyhood to adulthood.
If you're buying a good brand of dog food but your puppy still has dandruff, try:
Puppy dandruff treatment
To treat puppy dandruff, make sure the air is humid enough; feed your pup a high-quality balanced diet that's rich in proteins and healthy fats and oils; and keep the dog away from antigens.
Here are some anti-dandruff tips to remember during bath time:
Don't ever use human shampoo on a puppy
Don't use hot water to wash a puppy – keep the bath lukewarm     
Brush your puppy weekly to stimulate the oil glands and keep the skin healthy
Start bathing your puppy between 8 and 12 weeks of age, with one bath per month being more than enough. Too many baths wash away the oils that your dog's coat needs to stay healthy; and too few baths could result in dirt blocking the oil ducts beneath the skin, causing matted fur and/or dandruff.
Click here for all the details on when and how to safely bathe your pup.
Puppy dandruff almost always goes away on its own – it's just a matter of waiting for the oil glands beneath the skin to fully develop. But if the dandruff is stubborn or makes your pup uncomfortable, it's time to visit the veterinarian for advice.