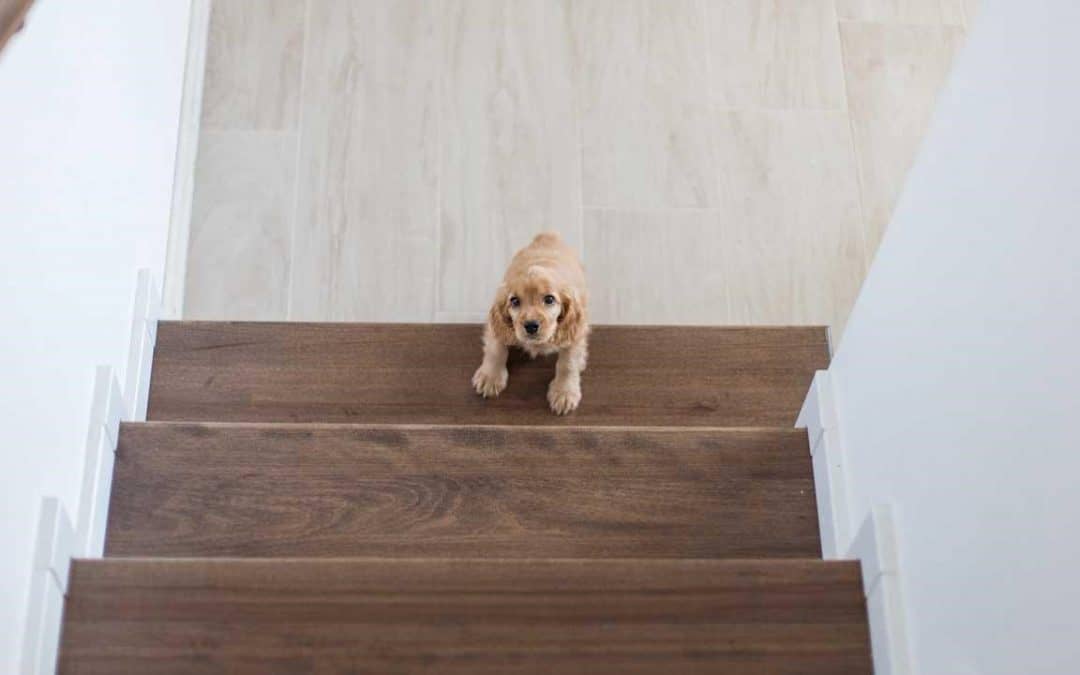 I had big wooden stairs in a house once and my elderly dog was too scared to go up and down them, so I had to carry her each time. Then I got a puppy and it made me wonder if I should let him climb those stairs or not. I did some research and it turns out that:
Puppies should not go up and down stairs on their own, even if they want to try – use a baby gate to stop your pup from accessing stairs in your home. Puppies that go up and down stairs can tumble and hurt themselves or permanently damage their hips.
Even If you think your puppy is big enough and strong enough to handle stairs, the truth is that letting your pup even try can do a lot more harm than good. Let's "climb" into the nitty gritty of puppies and stairs…
Are stairs bad for a puppy's hips?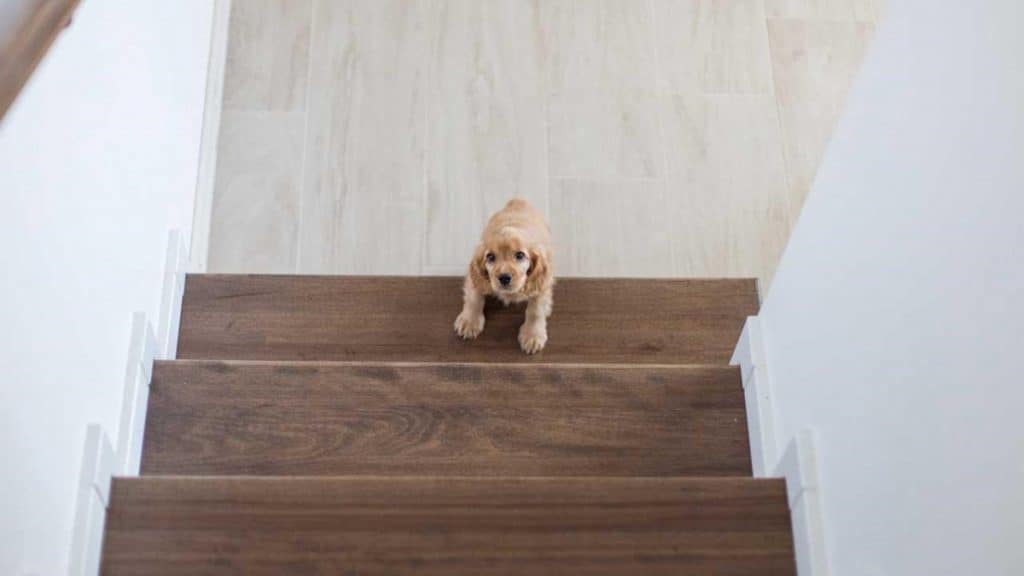 If a puppy is less than 12 weeks old, going up and down stairs can be very bad for its hips, especially if the puppy runs up and down a lot of stairs.
A puppy is born with cartilage hips. The ball of each hip is held in place by a fibrous tissue called a ligament. Over time, the cartilage turns to strong bone.
If the ligament stays intact, the hip bone develops normally, with a smooth rolling ball in a round socket. The ball of the hip rolls around gently in the socket as the dog moves its legs.
This is what normal hip bones look like in a dog: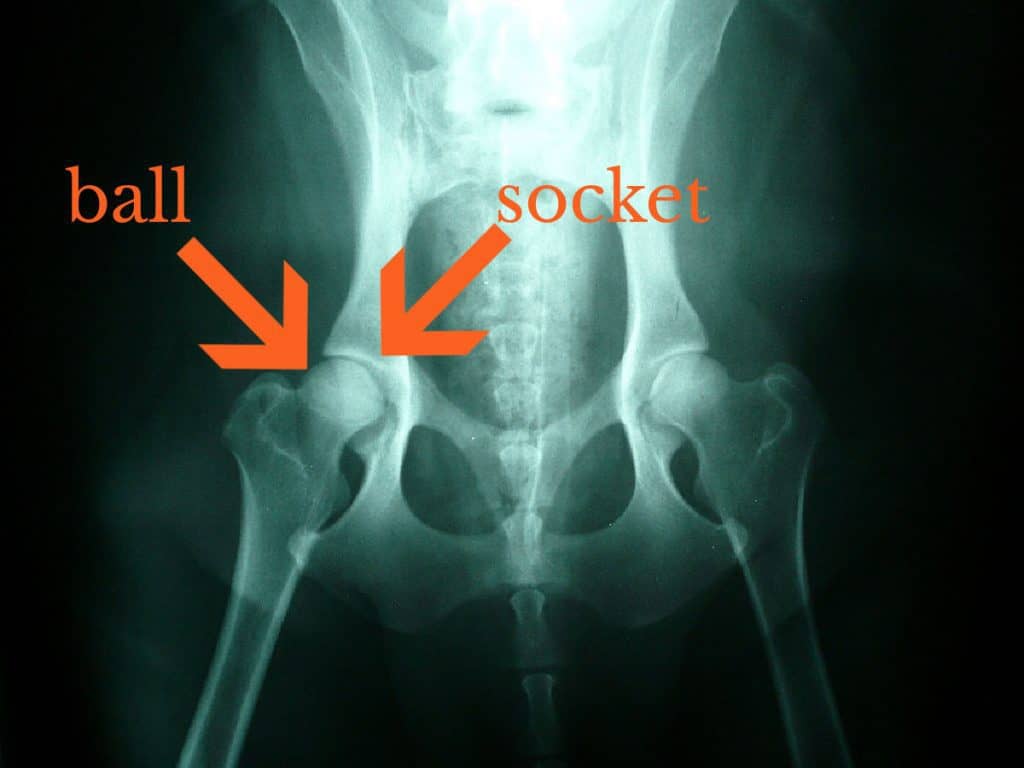 ---
If the ligament gets torn or damaged, the ball of the hip moves and develops abnormally, not sitting snugly in the socket. When the dog moves its legs, the bones rub together and the rim of the socket becomes damaged.
This abnormal growth is called "hip dysplasia", and can make life very painful for a puppy and even impossible for the dog to walk in old age.
Below is an X-ray showing hip dysplasia. Do you see how the balls of the hips sit slightly out of the sockets compared to the normal hips in the X-ray above?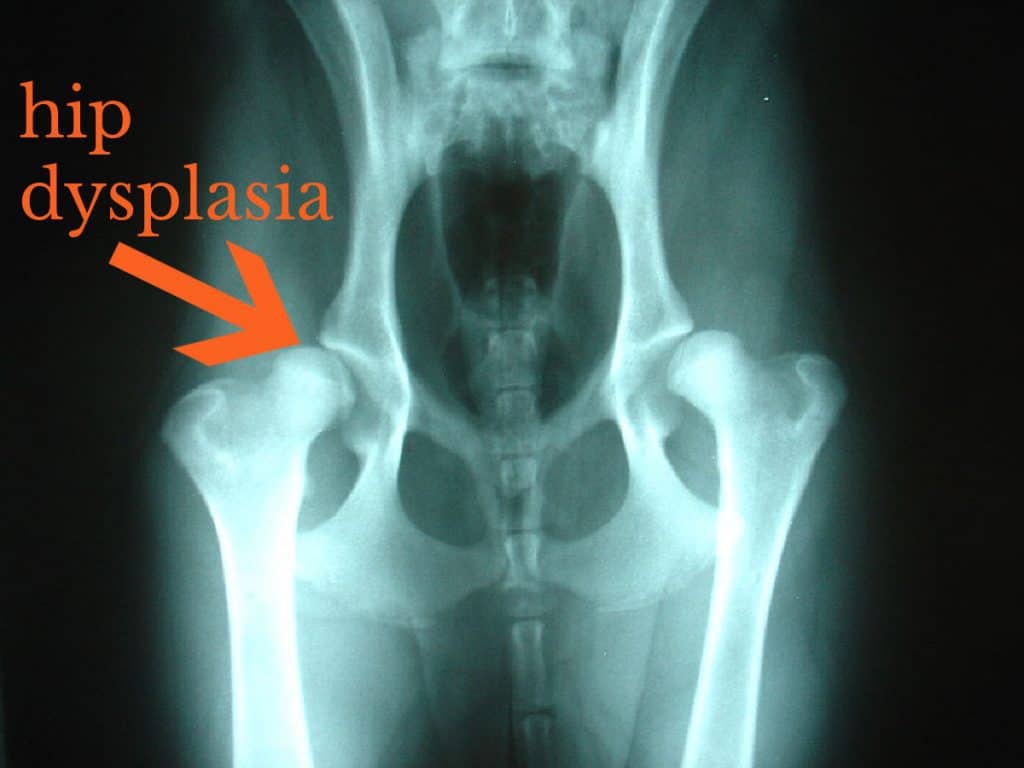 ---
Going up and down stairs puts jarring pressure on a young puppy's hips that can damage the hip ligaments, which can lead to hip dysplasia. Not all dogs get hip dysplasia, but larger breeds and any puppy that damages its hip ligaments are more likely to get it.
A study on large breed dogs cited by the American Journal of Veterinary Research found that:
At what age can puppies go up and down stairs?
Based on the hip dysplasia study above and advice from the RSPCA:
No puppy should go near a stair before 12 weeks of age. It's safest to carry puppies younger than 6 months up and down stairs. After 6 months of age a puppy can be taught how to go up and down stairs in a controlled and safe environment, but don't give your pup free access to stairs until it is fully grown and an adult dog.
Dogs reach adulthood at different times, depending on their size and breed. Check the following table to find out when your puppy becomes an adult dog and should be able to start going up and down stairs on its own:
Breed Size
Average Weight When An Adult Dog
Breed Examples
Becomes An Adult At About
Very small / Miniature
Less than 12 pounds
Affenpinscher
Chihuahua
Papillon
9 months
Small
13 – 25 pounds
Boston Terrier
Cavalier Spaniel
French Bulldog
12 months
Medium
26 – 50 pounds
Border Collie
Brittany
Retriever
14 months
Large
51 – 75 pounds
Afghan Hound
Airedale Terrier
Pointer
18 months
Giant
76 pounds+
Akita
Neapolitan Mastiff
Rottweiler
24 months
© Ayo Pets
You will notice that larger breeds take longer to become adults and should wait longer before climbing up and down stairs.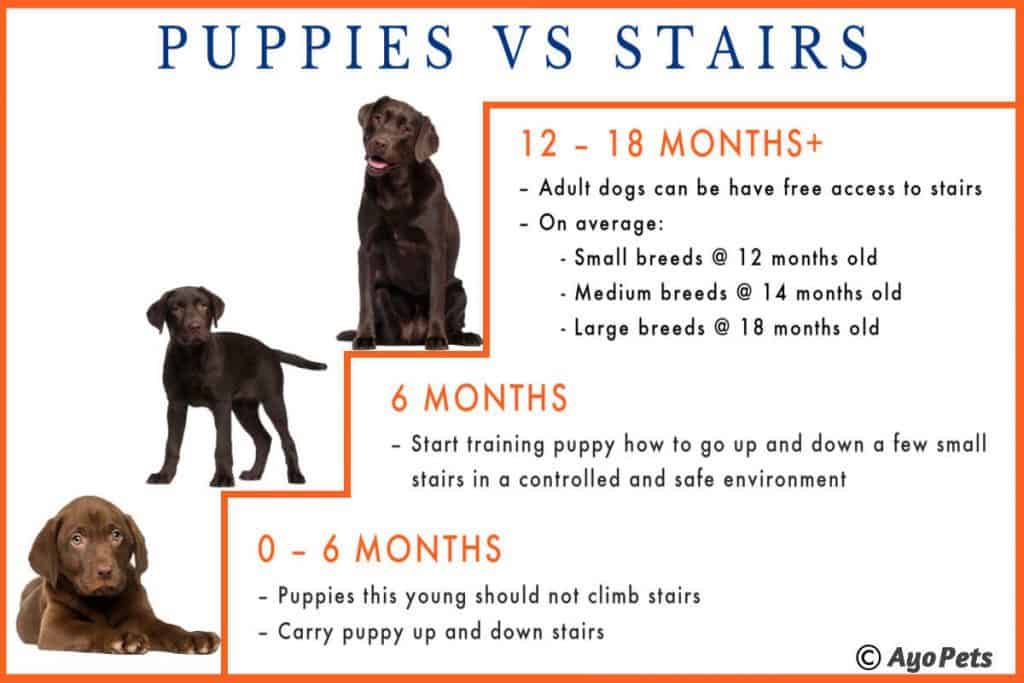 How to block stairs from your puppy
After doing some research online I was surprised by a lot of the advice that's offered on how to stop puppies from going up and down stairs. Apparently, the sound of tinfoil on stairs scares puppies and rough carpeting makes a puppy avoid the stairs because it doesn't want to scratch its feet.
From personal experience I can say that I know my own dogs. When they want to go somewhere they go there – even if there are "scary" tinfoil sounds or a little foot scrub along the way. Especially if they think I'm leaving or there's someone at the front door.
None of these methods would ever stop my dogs from going up or down stairs.
The best way to block stairs from a puppy is to use a stair gate or baby gate at the top and bottom of a flight of stairs. Make sure the gate is high enough that your puppy can't jump over it and secure enough that your puppy can't push it over.
I first bought a cheap one from Kmart to try it out, but later invested in an adjustable, heavy-duty one that works much better.
Here is a popular baby gate on Amazon that should do the trick.
If you can't get a baby gate or you don't have one yet, block off the staircase with whatever you have in your house that's big enough and heavy enough to stop your puppy from getting to the stairs.
Or don't let your puppy play in the room with the stairs until it is an adult and you can train your pup to go up and down stairs safely.